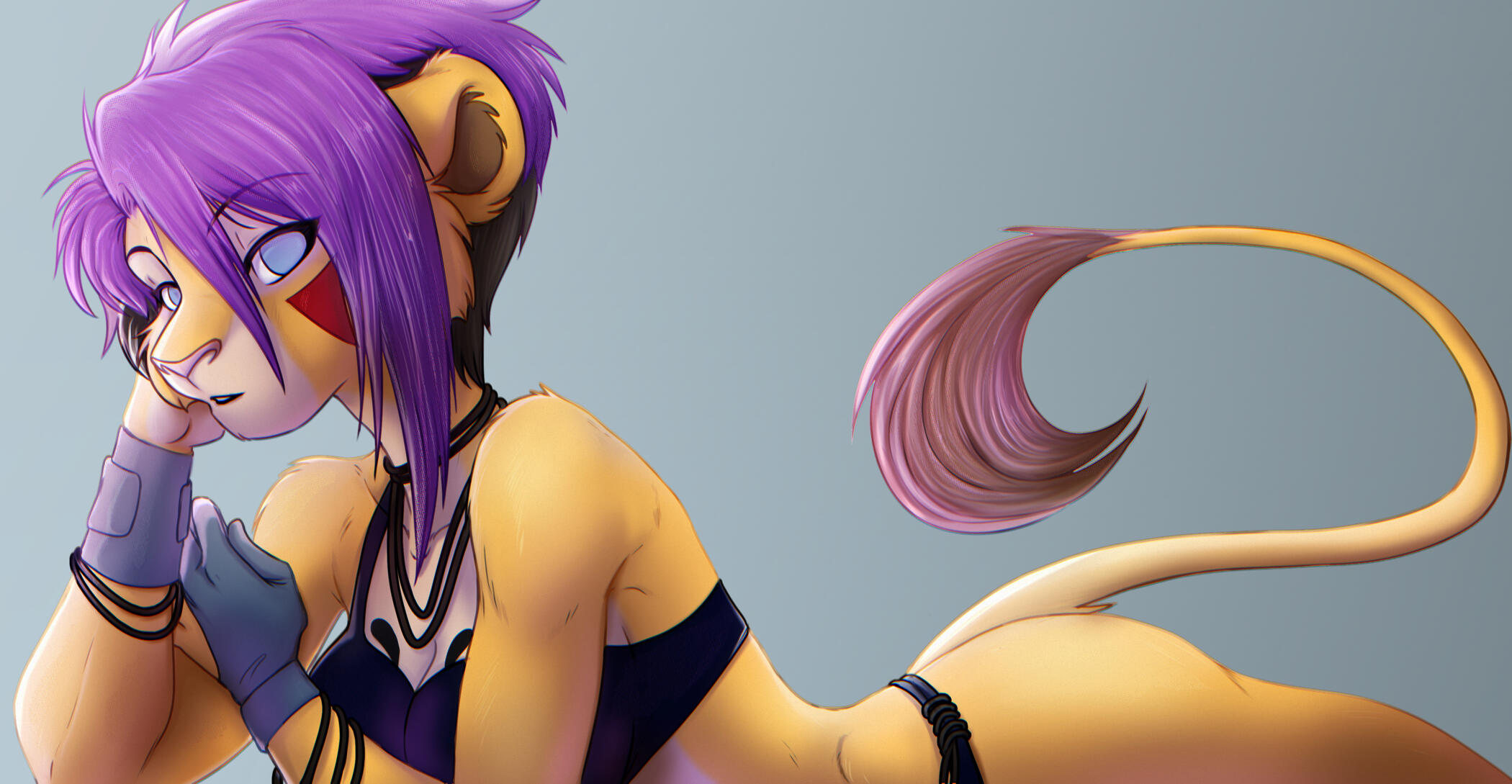 Vilani Vilá
Commissions
---
Freelancer Furry/Anime/Cartoon Artist
Please contact me through the following places:
FURAFFINITY, PATREON, TWITTER, EMAIL
Commission Status
CLOSED
---
COMMISSION QUEUE
AshuraTheFox [paid] - FA/email, flat colored
Prices
---
TYPES OF ART
SKETCH: Rough lines, no WIPs, rough shading, little detail.

COLORED SKETCH: Rough lines, no WIP, rough coloring.

INKED LINES: Digital inking includes detailed lines with a thicker line around the character, choice of a color and 3 shades, and black and white version.

FLAT COLORING: Soft detailed lines. Flat coloring with no shading or lightning.

[PATREON ONLY] DETAILED COLORING: Soft detailed lines with detailed coloring, shading and lighting.

[PATREON ONLY] CELL SHADE: Lines slightly thicker than inked, flat coloring with shading and lighting without any sort of blending.

REFERENCE SHEETS: Flat colored, with 2 full bodies and a face close-up. Can be changed and other details added. Information text also possible to add, different views, details and other close ups.

COMICS: Can be sketched, inked, flat colored, or detailed colored. Only 10 pages at a time, at least 2 pages long. Each page is roughly 1500 pixels per 1000 pixels. For set ideas (you tell me what each panel will have) you can decide how many panels each, considering detail is lost the more panels you add to the page. For free reign (you give me a plot and I draw it with my own interpretation), you need to tell me how many pages you want. This can all be changed and talked with me first.
COMMISSIONS POLICY
Last update: 8th of October, 2021
---
Contact
Please contact me through the following websites:
FuraffinityTwitterPatreonEmail
I am not available and do not use any other websites private messaging system to discuss commissions, so please make sure you only use the above options.
---
Content
I draw humans, animals or anthros (Furries) and adult themes.I draw fanart, however, you need to have authorization to use someone else's character.I will not draw underage characters in any nsfw situation, rape, dub-con or sexual violence, scat. There might be other themes, ask if unsure.I do not take requests of pictures associated with original/fanfiction or roleplay writing that depicts or alludes to any of the themes I refuse to draw.My work is NOT be associated with writing - fanfic, orig fic, rp or descriptions - that describe or allude to those themes I refuse to draw.
I reserve the right to refuse a commission, for whatever reason it is. While I will explain why I refuse a commission most of the time, I do not have to. Do not try to work around my words to get me to draw what I refused, my decision is final.
---
Payment
All prices are in US dollars.These are base prices only - there can be extra costs depending on what you want.I will calculate the prices by myself. If you have any questions regarding the price, or the breakdown of the pricing, please ask BEFORE payment.All prices are FINAL. If you realize you can not afford the art, you can ask me for a way to make it more affordable, which often involves sacrifice quality and/or detail - however, do NOT try to haggle, please. Everytime you complaint about the price, I will add extra 20$ to the original price. THIS IS AN ACTUAL THING THAT I DO.I accept Paypal only, through the use of Invoice.Payment must be made IN FULL before I start the picture unless I decided otherwise.If a commission is over 100$, I can accept partial payments.I do NOT accept any form or crypto-currency; if payment is made with any form of crypto the commission will be canceled and client will be black-listedn.
---
How it works
CONTACT: When asking me for a commission, please add to the note or email you're sending what you wish IN DETAIL. It makes the process faster and I'll have an idea of what you want right away. I'll tell you if I'll accept it or not after that.

PAYMENT: If I do accept your commission, I'll tell you the price and ask you for your email in order to send you an invoice. I will only start working when the full payment is made. I will send the invoice within 24h and expect payment within 3 days.

SKETCH and INKS: Once I finish sketching, I will send it to you - this stage is really important. Make sure you tell me anything you wish to change at this stage; inks can be modified but only to a certain extent, so please keep your changes to minimum at the inking stage (unless I made an obvious mistake). See "Revisions" below.

COLORS: Once you have approved the inks, I will move to colors. If you have given me enough references I'll simply color it right away and show you the result; if there are no references, I'll send you a "coloring in progress" picture, to make sure everything is at your liking which you can tweak. Final versions can only be modified if I made some mistakes/missed something you made clear. I will not change pictures after you have approved everything, so please always make sure everything is up to your standards.

FINAL FILE: The concluded file will be sent to you THROUGH THE EMAIL YOU HAVE PROVIDED ME FOR THE PAYPAL INVOICE. I will be using the website WeTransfer, and they will be sending you an email with the file for you to download. I will NOT provide PSD files, these are Patreon exclusive ONLY.

NOTE: I do not allow any of my art, commissioned or not, to be turned into NFTs. If such happens, the client will be black-listed.
---
References
I prefer visual references of the characters and - if a specific pose was requested - of the said pose. If there is none, please understand that I am not an English Language native speaker: use easy words, avoid slangs or "furry talk".

I can and probably will, refuse commissions where no picture was given and it 's difficult to understand what was requested.

I'd also wish to remind you that I enjoy artistic freedom; I appreciate when you specify what you want, but don't try to tell me where every single member should be, the ear pose and how the tail should be placed. I might reconsider your commission if you insist on illogical poses or nitpicking details.
---
my characters
My characters can be found here.

Ask if you wish to use my characters in your commission. I reserve the right to refuse for whatever reason it may be and I do not have to explain why I refuse something.

Drawing my characters with yours does not mean they are part of the same story, comic, fanfic or any other work. Please do not consider it so.
---
Communication and Respect
I am not online 24/7 and some emails might be missed. If there is no contact within 3-5 days, please re-send the email or note. If I missed your email, please do not get angry.

You are free to contact me at any stage of your commission or if you have any questions. I will provide as many Work In Progress as you wish, but please remember I have a day-time job, thus sometimes I'm not able to work on your commission everyday.

If there is an issue involving your commission, please contact me whenever you wish.
---
Revisions
English is not my mother language, so please make sure you explain whatever you feel that is wrong with the picture. As an artist, sometimes I may picture things differently from what you wanted and I understand the need to fix certain things that did not go the way you envisioned. However, it's necessary to remember that every time you ask for a revision of your sketch, it's taking time from me, and a commission is not only about the skill, but also the time it takes an artist to conclude the product. To avoid any of this, make use of references and try to include as much detail as possible.

ONLY sketches may be heavily revised. Inks can only be revised for small details I may have missed, and colors are only revised if it's absolutely against the color references you gave me.The first revision is free AS LONG it doesn't require me to modify over 10% of the sketch. If it's over 10%, then it'll have an extra cost.Each extra revision (after the first one) will have a symbolic extra of 5$ to cover for my time spent. So please make sure those revisions are crucial.The moment you have approved the final product, I will make no more revisions to it, even if you realized weeks later that something is wrong.Any revision that requires for me to change over 50% of the sketch will require a new sketch OR refund.
---
Refunds
As the artist, I can cancel and refund a commission any time I wish. If I cancel a commission, the refund will be made in full, regardless of how much progress I have made.

As the client, you can't cancel or ask for a refund after payment is made. In situations where I accept the request for a refund, I will only refund 80% of the total paid specially if I rejected commissions in favor of yours.

Unexplained and unfair chargebacks will be met with blacklisting, an Artists Beware post, and blocking.
---
Privacy
Regarding private commissions, while I still hold full right to display the work, I will gladly keep them private for as long as you want them to be. You need to tell me upfront, however; if no notice was given, I will post the art and am under no obligation to delete it.
---
Copyrights
I, the artist, hold full copyright of the picture itself. When commissioning me, the fee you pay grants you a custom-made illustration, not the copyrights to the work; the art work is mine, the character is yours - you paid so I would draw a picture of your character, not for having a picture that belonged to you.

As such, I have the right to use the artwork to promote myself, display it in any way I like and post it anywhere I want. If I see fit, I may find some art unsuitable to be displayed (I will always let you know upfront if it's the case).

As the commissioner, you have the right to use the work for personal use only unless agreed otherwise, print the art, and use the picture to promote yourself and your characters. You CANNOT use it commercially in ANY WAY, take credit for the creation, claim the art is yours, delete the signature or alter the work without my consent.